WWE : Dolph Ziggler beats Kevin Owens by DQ
December 31, 2015, 8:10 am
Dolph Ziggler defeated Kevin Owens via disqualification on Thursday`s edition of Smackdown - before mistakenly cracking Dean Ambrose with a superkick.
The Show-Off met Owens in the blue brand`s main event and picked up a victory when the Canadian`s ringside assault on him was deemed overzealous by the referee.
Owens continued to pummel Ziggler until Dean Ambrose made the save but after being dizzied by an Owens superkick, a loopy Ziggler accidently struck Ambrose with one of his own.
Elsewhere, new WWE World Heavyweight Champion Roman Reigns was banished from the building following his attacks on Triple H at Tables, Ladders and Chairs and Vince McMahon on Raw.
However, the Juggernaut refused to exit quietly, challenging the man he beat for his belt, Sheamus, to a fight and then marmalising a host of security staff that tried to eject him.
Sheamus` League of Nations cronies King Barrett and Rusev also made their presence felt on Smackdown, distracting Ryback long enough for the Big Guy to get caught in Alberto Del Rio`s Cross Armbreaker and then jumping him after the match had concluded.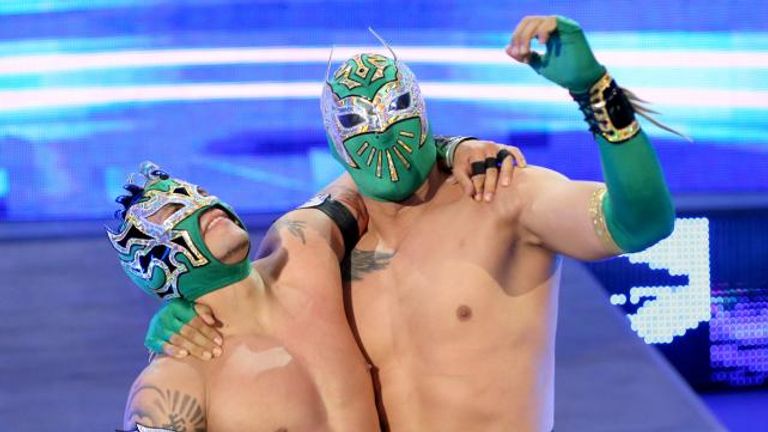 The Lucha Dragons bested The New Day in a tag tussle to earn a championship bout against the positive faction on Tuesday`s live edition of Smackdown, while Titus O`Neil overcame Tyler Breeze after Prince Pretty became preoccupied by a watching Goldust.
Plus, Becky Lynch voiced her displeasure towards Charlotte after The Nature Girl`s trip on Brie Bella allowed the Irish Diva submit her opponent with the Dis-arm-her.
Watch Smackdown across the weekend on Sky Sports and then tune in at 1am, Tuesday (Wednesday), Sky Sports 1 for the blue brand`s live edition.