WWE : Dean Ambrose wins Cage Match on Slammy Awards night
January 30, 2016, 2:12 pm
A plethora of WWE Superstars and Divas picked up gold when the 2015 Slammy Awards was held on Raw but there was also plenty of steel on show as Dean Ambrose defeated Sheamus in a Cage Match.
As Seth Rollins, Nikki Bella and Sting celebrated gongs, Ambrose was forced to meet The Celtic Warrior in a metal-clad main event as punishment for his friend, WWE World Heavyweight Champion Roman Reigns, disrespecting Stephanie McMahon earlier in the evening.
Ambrose`s chances of victory appeared slim when he was Brogue Kicked by the Dubliner before the bout and wrestled with Sheamus` League of Nations, Alberto Del Rio, Rusev and King Barrett, surrounding the ring.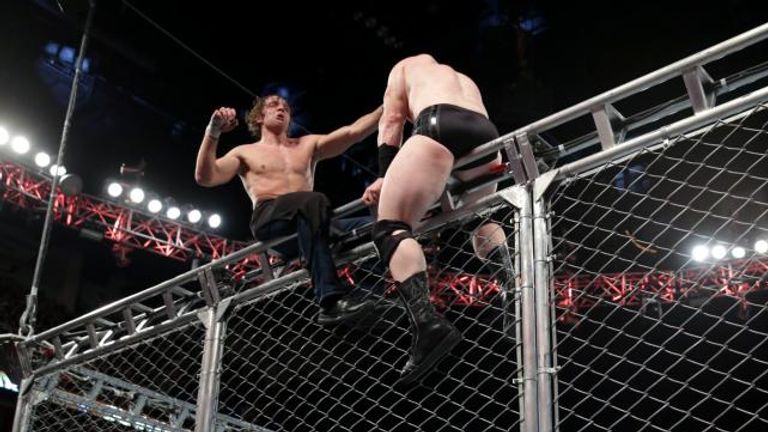 However, The Lunatic Fringe prevailed when Reigns took out Sheamus` minions and tossed Ambrose a steel chair, a weapon the fan favourite used to great effect before climbing out of the cage moments before his rival.
Ambrose and Reigns` ex-Shield stablemate Rollins had a successful night, too, with the former world champion - who is currently nursing a serious knee injury - named Superstar of the Year.
Sting was handed the Surprise Return of the Year prize for his shock re-emergence and attack on Rollins ahead of the Night of Champions event in September, while Bella was crowned Diva of the Year.
Elsewhere on Raw, newly-anointed Tag Team of the Year The Usos coped with a numbers disadvantage to edge The New Day in a two-on-three handicap match, while The Wyatt Family poleaxed The Dudley Boyz, Tommy Dreamer and Demon Kane in a four-on-four scrap.
Del Rio warmed up for his bout against the returning John Cena on next week`s edition of Raw by conquering Jack Swagger with a stomp off the ropes, while Rusev overcame Neville with The Accolade.
Plus, Kevin Owens - furious after Neville pipped him to the Breakout Star of the Year award - conquered Dolph Ziggler with a Pop-Up Powerbomb, and Becky Lynch submitted Becky Lynch with the Dis-arm-her.