Jason Holder insist West Indies not going backwards despite huge defeat
December 24, 2015, 8:38 am
Skipper Jason Holder insists his West Indies team`s massive innings defeat to Australia in the first Test was not a step backwards.
The tourists capitulated to an innings and 212-run loss well inside three days in Hobart after being sent back in and bowled out for 148 off just 36.3 overs in the second innings.
The West Indies have won just four of their last 21 Tests and are ranked above only Bangladesh and Zimbabwe. They last won a Test in Australia in 1997.
But Holder was putting on a brave face against the continuing Windies underachievement.
A look back at the action from the third day of the first Test between Australia and West Indies in Hobart"I wouldn`t say it`s a step backwards. Obviously in the past we`ve shown that we can compete," Holder said.
"We had a really good series against England where we competed really well and then the Australians came in after that and we fell back a little bit.
"But in a sense, the spirit in the dressing room is still there, we had a few one-day series and then we had first-class cricket back home where players from here did well.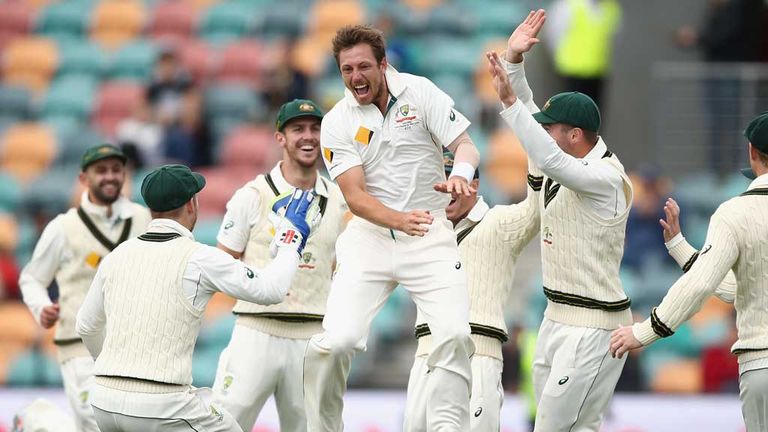 Australia celebrate another Windies wicket
"So it`s just a case where we need to put together a collective effort for longer periods in the game.
"I just felt we have too many good spurts of cricket we`re not continuing on through the duration of the game. We need to do the good things longer."
Another blow for the Windies is the loss of fast bowler Shannon Gabriel, who has suffered an ankle injury and flown home. He will play no further part in the tour.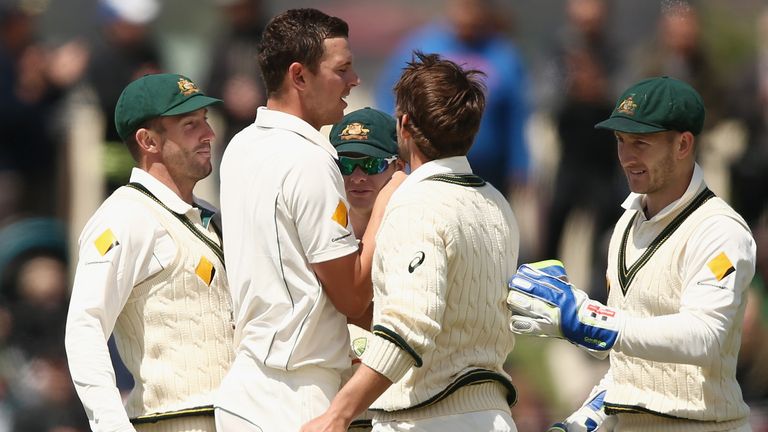 Josh Hazlewood of Australia celebrates taking the final wicket of Kraigg Brathwaite
Australia captain Steve Smith said there was talent in the young Windies team which needed time.
"I think they`ve got some very capable players. We saw that with the way Darren Bravo played (108) and Kraigg Brathwaite (94) today," Smith said.
"They`ve certainly got some talented players that we have to be wary about."
The tourists have a two-day game against a Victorian XI in Geelong from December 19-20 as their only match preparation for the second Test at the Melbourne Cricket Ground, starting on December 26.
"We just need to make the most of it, I thought preparation was very good leading up to this first Test match, I couldn`t ask for much more," Holder said.
"It`s just a situation where we need to perform our roles. We haven`t been doing it, and starting to do it is the only way we can win cricket games."