Curry, Thompson Lead the Warriors to 51st Straight Home Win
The immovable force that is the Golden State Warriors continues to move forward, this time dismantling the Los Angeles Clippers before a sellout crowd for the team's 51st straight win, an NBA record. The 114-98 victory was led by presumptive league MVP, Stephen Curry, and fellow Guard Klay Thompson, who combined to score 65 points.

The performances by Thompson and Curry were welcome sites for nervous fans who had watched the two struggle in their previous two games. This last Saturday, the San Antonio Spurs appeared to all but shutdown Curry, holding him to a season low in points and three-point shots made. That was followed up by a sub-par performance against the Minnesota Timberwolves, a game the team narrowly won. Curry was a combined 10-35 in those two games, and hit just 3 of 21 three-point attempts.


Wednesday night he looked like his old self, hitting 12-23 from the field, and finishing with 4 of 10 made from beyond the arc. That performance in just a little 37 minutes of the game played.

Thompson has also been struggling against the Spurs and the Timberwolves. He was just 7 of 20 on field goal attempts in those two games, and hit just one of his 7 three-point attempts. Wednesday night he was back in form, hitting 12 of 21 field goals and drilling 7 of 10 from behind the arc. It was an amazing night for the two known as the "Splash Brothers."

The game was tight in the first half, as the two teams went to the break with the Warriors holding a narrow 51-49 advantage. However, following the break the Splash Brothers caught fire, bursting out to a 10-1 run that the Clippers never recovered from.


The victory moved Golden State to 64-7 this season, as they continue their quest to be the winningest team in NBA history. The Chicago Bulls hold the NBA record with a 72-10 record, meaning Golden State needs to go 8-3 to simply tie that record. With eight of their final 11 games at home, where they are 33-0 this season, that record looks to be in serious jeopardy.

Five players scored in double-digits for the Clippers, with center DeAndre Jordan leading the Clippers with 19 points and 20 rebounds. Austin Rivers had 16-points off the bench for L.A. Forward Draymond Green had 12 rebounds for Golden State and scored 12 points.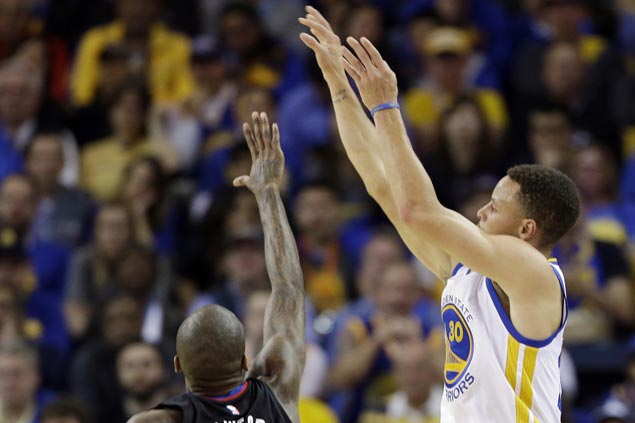 © Copyright Article by
GooodAdMedia Team